R.A.W. Realms of Ancient War
PC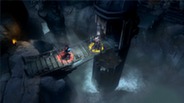 Descripción
¿Podrás sobrevivir a Realms of Ancient War?
¡Controla a un temible Guerrero, a un poderoso Mago o a una sutil Pícara y adéntrate en un épico viaje lleno de acción!
Características principales
¡El hack'n'slash R.A.W. es un explosivo juego de rol y acción que te transportará a un mundo fantástico, asolado por una larga y violenta guerra! ¡Descúbrelo a solas o en compañía de un amigo gracias a su modo cooperativo!
Sube de nivel a tus héroes, consigue armas y armaduras cada vez más poderosas, desbloquea hechizos devastadores y extermina por docenas a los adversarios que salgan a tu paso.
¡Y por si fuera poco, mediante el talento de la Encarnación, controlarás a tus más poderosos enemigos, desatando su furia para que siembren la destrucción entre sus propios aliados!
Description
Do you have what it takes to survive the Realms of Ancient War?
Take control of a fearsome Warrior, a powerful Wizard or a Rogue, and plunge into a grand quest full of action!
Key Features:
The explosive Hack'n'Slash (action/role-playing game) R.A.W takes you, alone or with a friend in co-operative mode, on a fantasy world ruined by an ancient and violent war.
Level your heroes up, collect more powerful weapons and armor, unlock new and more devastating spells, and exterminate by the dozens at once the hordes of enemies that are standing in your way.
Thanks to your talent of incarnation, take control of your most powerful opponents to unleash their power and seed destruction among your enemy's legions!
Description
Parviendrez-vous à survivre à Realms of Ancient War ?
Prenez le contrôle d'un redoutable Guerrier, d'un puissant Sorcier ou d'une Rôdeuse, et lancez-vous dans une grande quête riche en action !
Caractéristiques :
L'explosif Hack'n'Slash RAW vous emmène, seul ou à 2 en mode coopératif, aux quatre coins d'un continent fantastique ravagé par une ancienne et violente guerre.
Montez en niveau, récoltez de nouvelles armes et armures toujours plus puissantes, débloquez de nouveaux pouvoirs de plus en plus dévastateurs et exterminez à tour de bras les hordes d'ennemis qui se mettent en travers de votre route.
Grâce à votre don d'incarnation, prenez le contrôle de vos adversaires les plus puissants et semez la destruction au cœur même des rangs ennemis !
Beschreibung
Haben Sie, was man braucht, um Realms of Ancient War zu überleben?
Werden Sie zu einem furchterregenden Krieger, mächtigen Zauberer oder Schurken und tauchen Sie in eine Quest voller Abenteuer ein!
Hauptmerkmale:
Das explosive Hack'n'Slash (Action/Rollenspiel) R.A.W nimmt Sie mit, allein oder mit einem Freund im Koopmodus, in eine Fantasiewelt, die in einem altem und brutalen Krieg zerstört wurde.
Steigen Sie mit Ihren Helden im Rang auf, sammeln Sie stärkere Waffen und Rüstungen, schalten Sie neue und verheerendere Zauber frei und vernichten Sie dutzende Horden von Gegnern, die Ihnen im Weg stehen.
Danke Ihrer Fähigkeit der Verkörperung können Sie Kontrolle über Ihre stärksten Feinde erlangen, um ihre Kraft freizusetzen und Zerstörung in den feindlichen Reihen anzurichten!
Descrizione
la stoffa per sopravvivere a Realms of Ancient War?
Assumi il controllo di un potente guerriero, un temibile stregone e una canaglia, dopodiché tuffati in un'incredibile missione a base di azione!
Caratteristiche principali:
L'esplosivo picchiaduro a scorrimento (a base di azione/gioco di ruolo) R.A.W. ti consentirà di attraversare, da solo o con un amico in modalità cooperativa, un mondo fantasy devastato da un'antica e violentissima guerra.
Fai salire di livello i tuoi eroi, raccogli armi e armature più potenti, sblocca nuovi incantesimi più devastanti e stermina le decine di orde nemiche lungo la tua strada.
Grazie al dono dell'incarnazione assumi il controllo degli avversari più potenti, per scatenarne la potenza e seminare distruzione fra le legioni nemiche!