Ground Control II: Operation Exodus
PC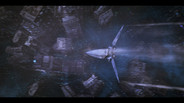 Descripción
Comanda un ejército. Lucha por la libertad.
Ground Control II: Operation Exodus ofrece una estrategia en tiempo real con el estilo de un juego de acción.
Es 2741 y el universo está en guerra. El salvaje Imperio Terrano está asediando la Northern Star Alliance, un tratado de colonias que defiende la libertad y la democracia. Después de perder la batalla en el espacio, la NSA se ve obligada a retirarse a su último bastión. La situación es desesperada, pero para la NSA, el destino está a la mano. Su única esperanza ahora reside en una antigua leyenda...
Ground Control II: Operation Exodus incluye el Ground Control II original
Características principales:
Una campaña para un solo jugador repartida en 2 facciones y 24 misiones basadas en escuadrones.
Juega a través de la campaña en modo cooperativo con hasta 2 jugadores más.
Multijugador competitivo * directo para hasta 8 jugadores en 10 mapas diferentes (SOLO LAN).
Lleva a tu escuadrón de infantería, tanques, artillería y aviones a la libertad.
Dirige al ejército de Viron alienígena y une a tus tropas en unidades más poderosas.
Disfruta de una historia fascinante y futurista con emocionantes giros de la trama.
Gráficos de alta calidad que se ven geniales, incluso para los estándares de hoy.
Description
Command an Army. Fight for Freedom.
Ground Control II: Operation Exodus delivers real-time strategy with the flair of an action game.
It's 2741 and the universe is at war. The savage Terran Empire is laying siege to the Northern Star Alliance, a treaty of colonies that upholds freedom and democracy. After losing the battle in space, the NSA is forced to retreat to its last stronghold. The situation is desperate, but for the NSA, destiny is at hand. Its only hope now lies in an ancient legend...
Ground Control II: Operation Exodus includes The original Ground Control II
Key Features
A singleplayer campaign spread across 2 factions and 24 squad-based missions.
Play through the campaign in co-op with up to 2 other players.
Drop-in competitive multiplayer* for up to 8 players across 10 different maps (LAN ONLY).
Lead your squad of infantry, tanks, artillery and aircraft to freedom.
Command the alien Viron army and meld your troops into more powerful units.
Enjoy a fascinating, futuristic story with thrilling plot twists.
Top-quality graphics that look great – even by today's standards!